What is Vote Scorecard?
The best way to make use of CQ's floor vote data is through Vote Scorecards. These templates allow you to generate and edit reports on how members voted to give to your team members, boss, or keep for your own records.
Where is Vote Scorecard?
1. Navigating from anywhere in the platform: Simply click Create → Report → Vote Scorecard.

2. Navigating from Bills page: Simply click Research → Bills → Vote Scorecard.

Creating the Report
Whether you create the report through the Bill page or Reports view, you have the ability to pull a report based off of votes, members, Projects, or via an Advanced Search. The instructions below are based off creating a report via option 1 above, (Create → Report → Vote Scorecard), for ease.
Adding Votes and Members by Advanced Search
Oftentimes, you'd like to pull a vote or votes, but may not have them already identified and saved to a Project (see below). In that case, you can conduct an Advanced Search in order to find the votes and members you want.
Click "Add by Searching" under the Votes search bar.
Enter in whichever criteria you prefer. For the example below, I've selected all votes in the House that occurred between 12/3/19 and 12/6/19.
Determine which votes you'd like to include. If you'd like to add them all to your report, click "Add all votes to report" in the upper righthand corner.

If you'd only like a few, select the checkbox to the left of the vote title and select "Add # checked vote to report."

Scroll down to Members. Note that you cannot generate a Vote report without adding members.
Either add one member, or click "Add by searching" to add multiple.
You can add members by party; state; committee; chamber or session of Congress. For this example, I'll be going with the House Approps Committee.
Click "Add to Search."
If you'd like to add all members, click "Add all members to report" in the upper righthand corner.
Scroll down and click "Build Report."
Adding Votes
Adding Members
Adding Votes and Members One by One
If you know the specific member or vote you'd like to use, simply enter it into one of the text boxes. Before hitting search, let the platform provide you autocompleted answers for you to select from. Feel free to add multiple members and votes at once!
Customizing your Vote Scorecard
Setting Your Position
You may have noticed that you have the option to set a position (either Yea or Nay) both before you add votes via Advanced Search (option #1 below) and once they are added (option #2). Setting a position allows you to compare a member's or group's (of members, a committee, etc) position to either another party, the same party, or other members. Simply select you position, and you'll be able to compare votes once the report is generated (see Popular Use Case #1).
Option 1
Option 2
Editing, Saving and Sharing your report
Once the report is to your liking, click save in the upper righthand corner. After that, you'll see that there are a few options worth highlighting:
You can go back and edit the members, votes, dates and any other criteria you've included;
You can export the report as a PDF or CSV;
And you can share with team members within CQ Federal.
Popular Use Cases
Comparing Member Votes to Rest of Party
If you've added positions, you have the ability to view the percent agreement with your base selected position as compared to other members you've included in your report.
For example, as in the video below, I wanted to see how Rep. Lamb's vote on any recent Environment-related bills compared to the rest of his party. To do so, I follow all the steps above, but choose a topic for the vote search.
Once you've added your vote(s), it's time to add your member and their party. In this example, it will be House Democrats, which includes Rep. Conor Lamb.
Make sure to set your position on your chosen vote to the vote/position taken by your member, which, in this case, was Yea.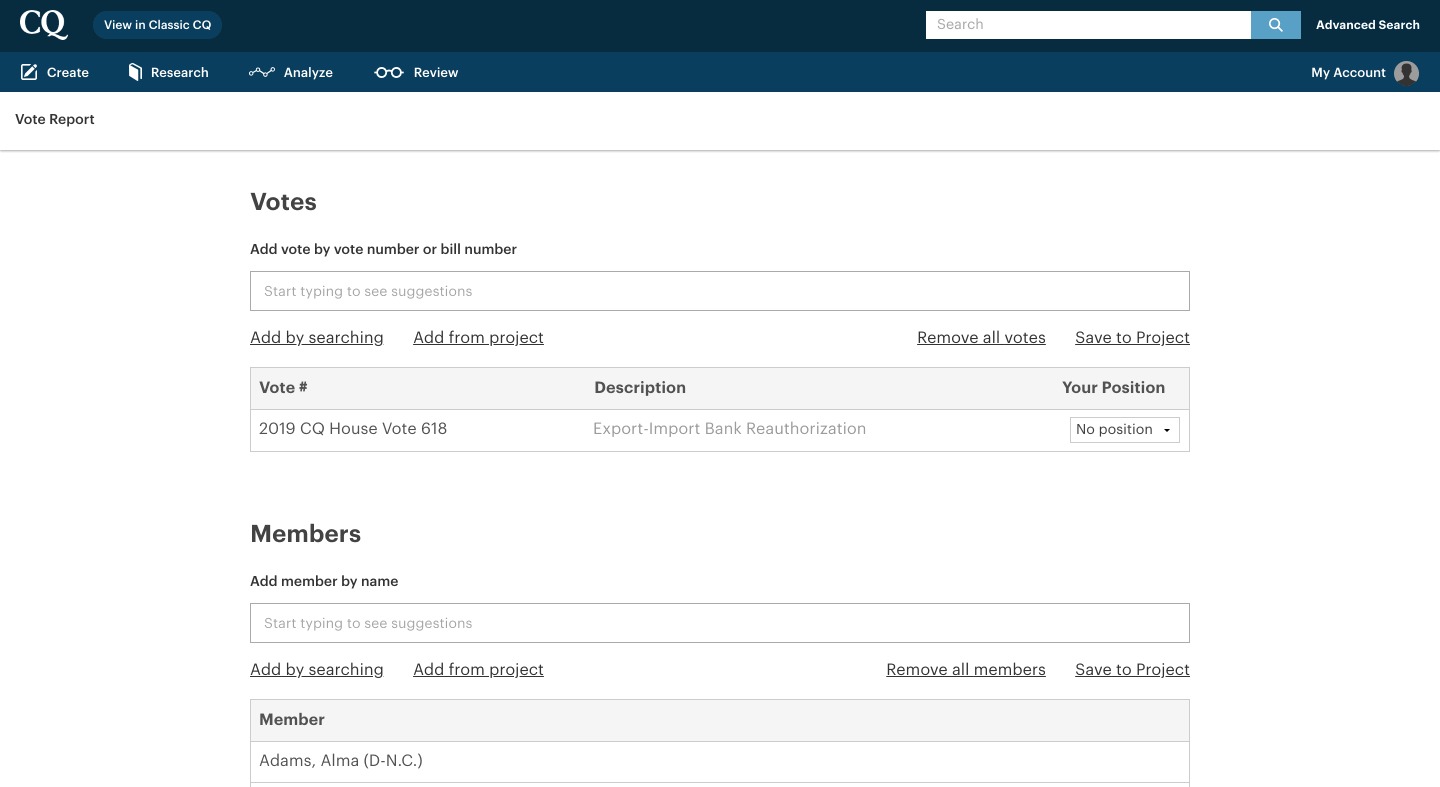 Then, you're able to see the percentage with which each Democratic House member voted in line with your selected member's position. Considering Rep. Lamb was one of six Democrats to vote in favor, few members in his party fall in line with him.
Other Comparison Use Cases
Using the above process, you can also:
See if a member's voting history aligns with positions they've publicly taken in the past on specific issues in order to hold them accountable.
See how a handful of member's voting histories compare to each other.
Create a comprehensive list of all members to see how their votes align or do not align with an organizational interest.
FAQ
Q: What if there are members added in my advanced search who I don't want?
A: Simply select them and hit "Remove" below the results boxes.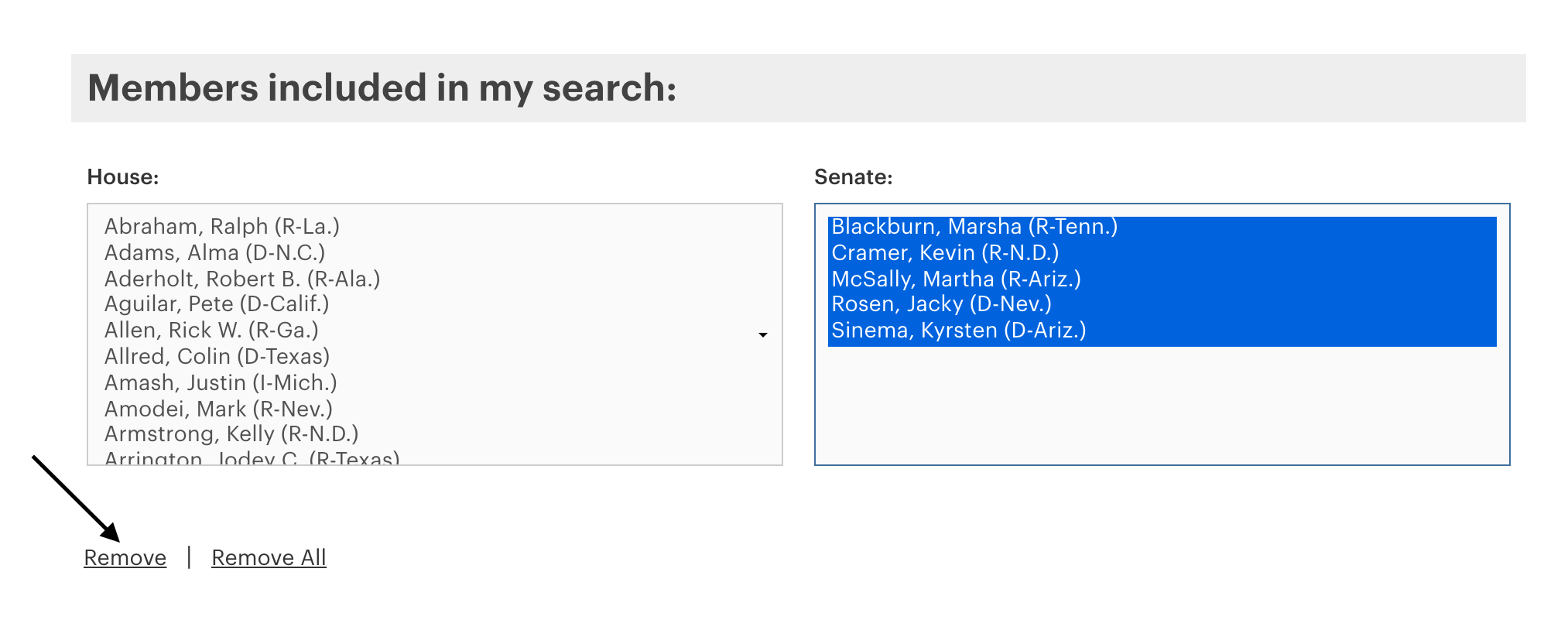 1. How do I select multiple members?
You can manually add them, add them via Advanced Search, or add them via Project.
2. How do I create one a scorecard all members?
There are multiple ways, but it's recommended to add via Advanced Search.
3. Can we add more than one vote?
Yes! See here.
4. How far back does vote information available in the CQ Federal platform go?
1991.