A comprehensive look at what it means to follow content in CQ Federal.
What is the 'follow' button?
You'll find the 'Follow' button scattered around the platform on article pages; bill pages; member pages; committee pages, etc, in the upper right hand corner.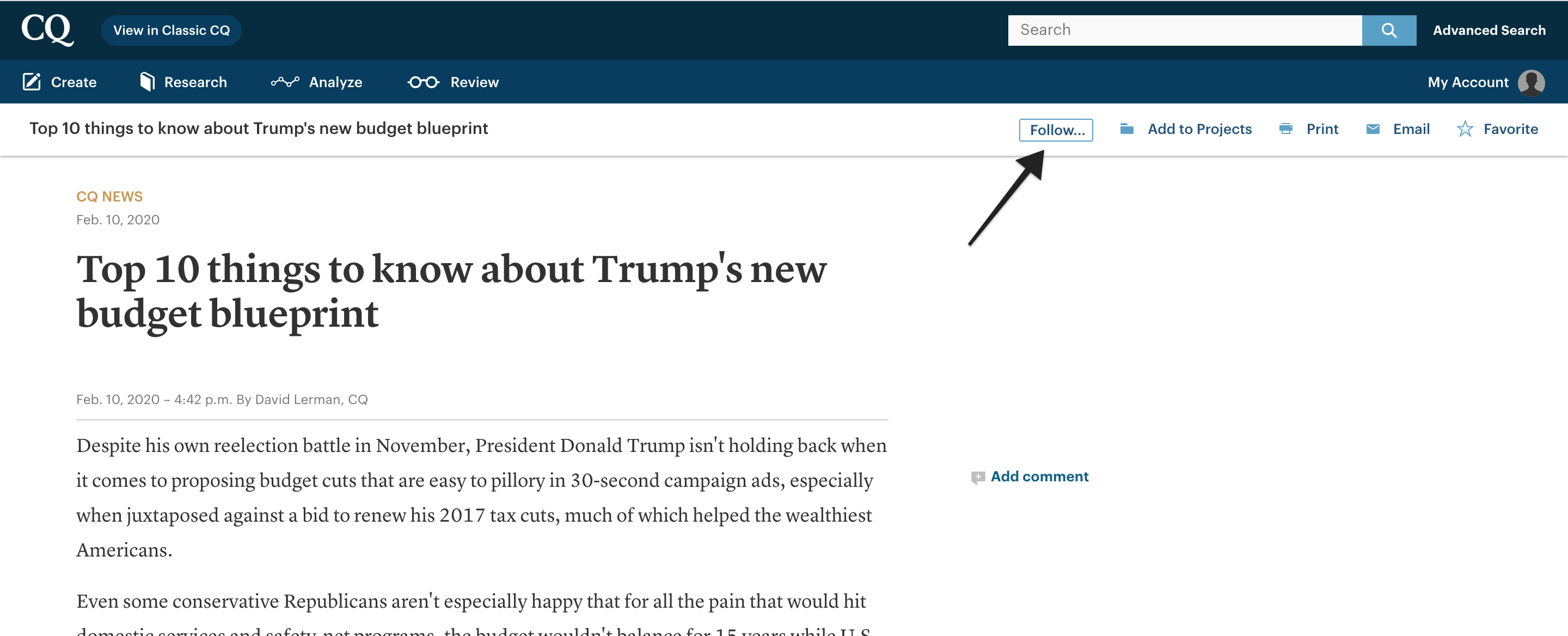 What does the follow button do?
When you hit 'Follow' on any content in the CQ Federal platform, it automatically creates an alert to be sent to your email that will let you know about all changes, legislation, news and updates that occur around the content you've selected. It's the fastest and easiest way to stay up to date.
What content can I follow?
Anything in your platform! Whether that be a specific bill; a member of Congress; a committee or a subcommittee, if it's accessible and viewable in your platform, you can follow it.
Once you hit 'Follow,' the platform will automatically begin sending you emails whenever there is an update related to the content or topic you've chosen to follow.
When would I want to follow something?
The 'Follow' button is best used for specific pieces of content or legislation, like a specific bill, a specific member of Congress, or a specific committee. It's the fastest and easiest way to keep up with anything related to legislation you care about with one click.
Why are there so many options when I follow articles?
As you'll see on articles specifically, hitting 'Follow' will present with you with a number of options. This is because hitting 'Follow' on an article will trigger the platform to suggest all content mentioned in the article, from members to bills to committee to general topics. See below for an example:
If you'd like, you can select exactly which topics and committees you'd like to follow by simply hitting 'Follow'. But keep it pared down to avoid inbox overflow.
How can I unfollow content?
Simply go to Review → My Alerts → Select the alert you wish to unfollow, and click delete.
Are there other ways to be alerted to content?
If you'd like to create a more curated alert, see here for instructions on creating hyper-specific alerts using Advanced Search.