Overview
Whether you're here to learn about the complementary CQ Federal access offered to all House Staffers, or if your office has purchased some of our premium features, welcome! In this article we'll introduce you to your new legislative news and tracking platform, CQ Federal.
For Staffers Looking to Use the Complimentary Platform
What is the "Complimentary Platform"?
For many years, the House CAO (Chief Administrative Officer) has partnered with CQ to provide access to a select number of tools in CQ Federal to help staffers do their jobs. Historically, staffers had access to only a small amount of CQ's tools, but those features have expanded significantly to help staffers better track news and legislation.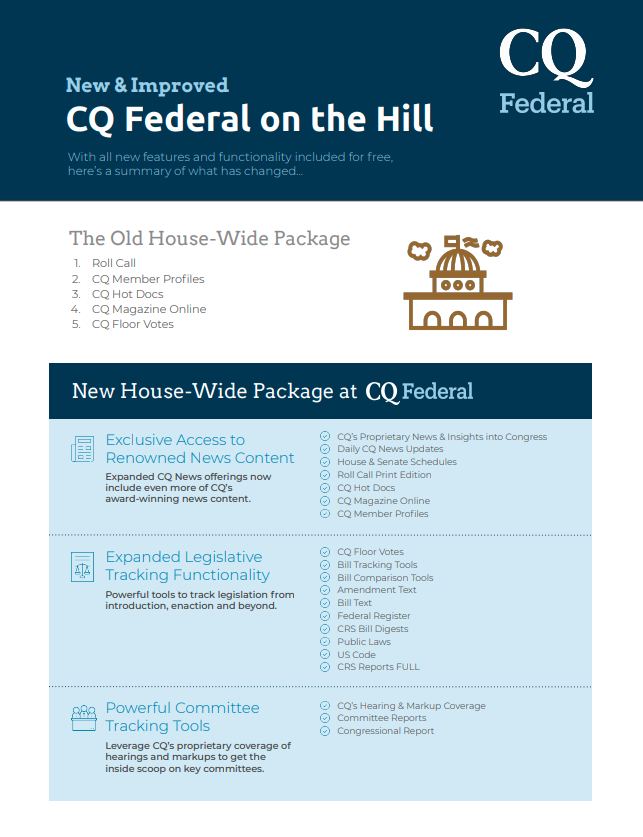 What Features Are Included?
To learn more about the features all Hill Staffers now have access to, please click the image below:
How do I get Started?
See here for specific steps on getting logged in.
For Staffers Looking to Learn about Their Office's New Platform
If your office has recently purchased additional premium features on top of the House-wide complimentary platform, welcome! We've built a guide to getting started with your new platform. See here for the step-by-step articles and, in the meantime, review the PDF below.
How can I learn more?
For a step-by-step guide to your new platform, how to get logged in, what you have access to and more, see here.