What's Changed
For folks on the Hill who have worked with CQ's platform in the past, you might be wondering: what's changed?
The Old Way
As you may know, the House CAO (Chief Administrative Officer) has partnered with CQ for many years to provide access to all staffers to a select number of tools in CQ Federal. Those tools have always been available to every House office, at no additional charge.
The New Way
Historically, staffers have had access to only a small amount of CQ's tools, but as of summer 2020, those features have expanded significantly to help staffers better track news and legislation.
This means that you, your team and your office now have access to tons of additional content and resources in CQ Federal. And these updates are all complimentary. See below for a quick overview of what all Staffers on the Hill now have access to:
FAQ
At a high level, what's included in the new package?
See here for training articles that goes over what the new platform access entails, but to summarize, it offers expanded legislative, committee and member data as well as custom tools for searching, alerting and reporting.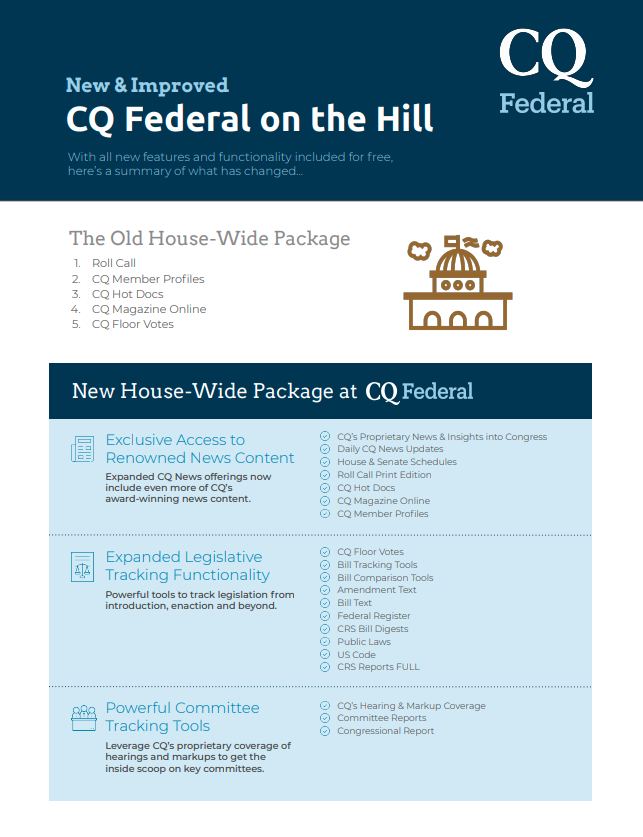 More specifically, what are all of the new features?
For a more complete view of the features all Hill Staffers now have access to, please click below:
Does my team have to do anything to gain access?
Nope! Their access has already been created for all existing users. They will see these updates the next time they login to CQ Federal.
What if someone in my office does not have login?
If you or someone in your office would like a login, and you haven't already received a welcome email, simply click here. You will be redirected to a pre-crafted email to CQ's support desk. If you already have a login, you can start the process by going here: http://cq.com/setpassword/step1.
**Your username is your Hill email address**
You may have received the email shown below titled "Welcome to CQ Federal" with a link to enter your username, which is [Your Hill Email].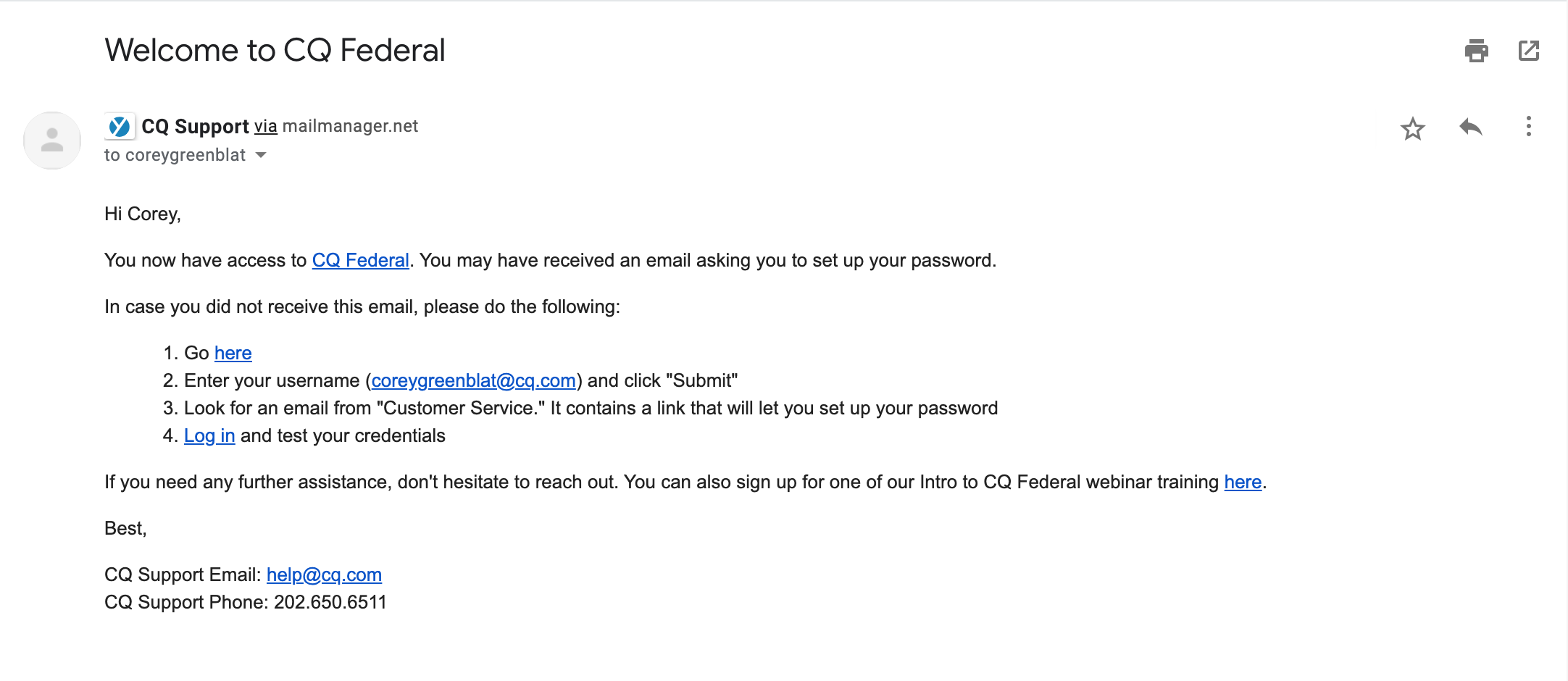 Once you have submitted your username, you'll then receive an additional email with a link to set your password.
Where can we learn more about how it all works?
Great question! We made a dedicated section, just to help out with that!
Simply navigate within the the Help Center you are in right now OR go to the website hill.cq.com, which leads you to the overview section. Once there, you will find helpful articles, videos, and 1-Pagers that go over the various features and functionality included in the new Hill offering.