Overview
Historically, there hasn't been a single location for all the information you need to fully understand the personal and legislative biographies of members of Congress - that's where CQ comes in.
In this article, we'll review how to leverage Member Profiles to learn everything you need to know to create a strong, lasting relationship with legislators.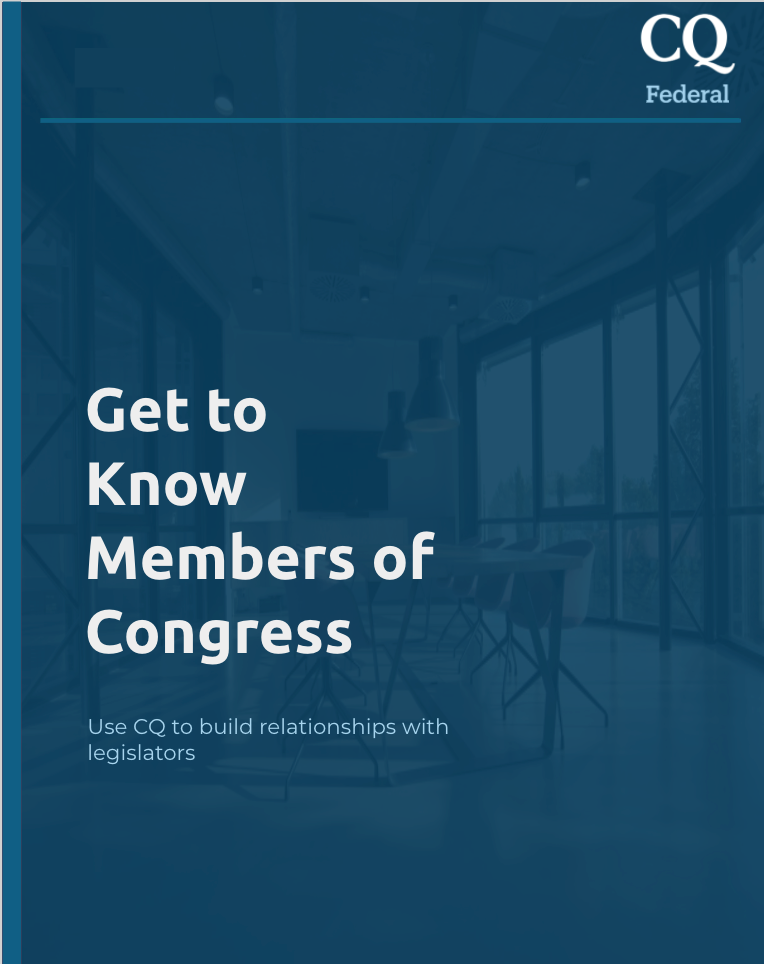 Member Profiles: How CQ Can Help
Member Profiles are a database of detailed summaries on every single member of Congress, including information about their districts, speeches, personal and political history, key votes, and more.
Member Profiles are a fast and easy way to get any information you may need on members of Congress for briefings, meetings, team updates, personal research and more. Whether you're looking to get to know a new member of Congress or learn more about senior members, CQ's Member Profiles have all the current, relevant information you need to start building those relationships.
Fact Files
If you're not sure who you're looking for, Fact Files are a great place to start. By scrolling down on the Member Info homepage, ('Research' → 'Member Info'), you'll find options for sifting through members in both chambers organized by criteria like:

1. Chamber and Party
2. Committee
3. Alphabetical member master list
4. Caucus
and much more.
Committee Rosters
Available through Fact Files, Committee Rosters provide not only a list of the members on any given committee, but the majority and minority staff for that committee with their associated with contact information.
Biographical Information
Once you've found the members you'd like to research and understand better, take a look at their homepage first. The 'homepage' of each Member Profile includes the member's:
1. Leadership positions
2. Contact information
3. Political Highlights
4. When they were first elected
5. When they were last elected
6. Education, religion and family info
7. Social media and website links
& more.
Profile & District Information
Under the tab 'Profile' and on the left hand side, you'll find a thorough, detailed summary of the legislator's public life, from a summary of their election(s), what they're known for in Congress, the issues they're most passionate about, the development of their participation in politics over time, how and where they grew up and so much more.

Also under the tab 'Profile' on the left hand side, you'll find: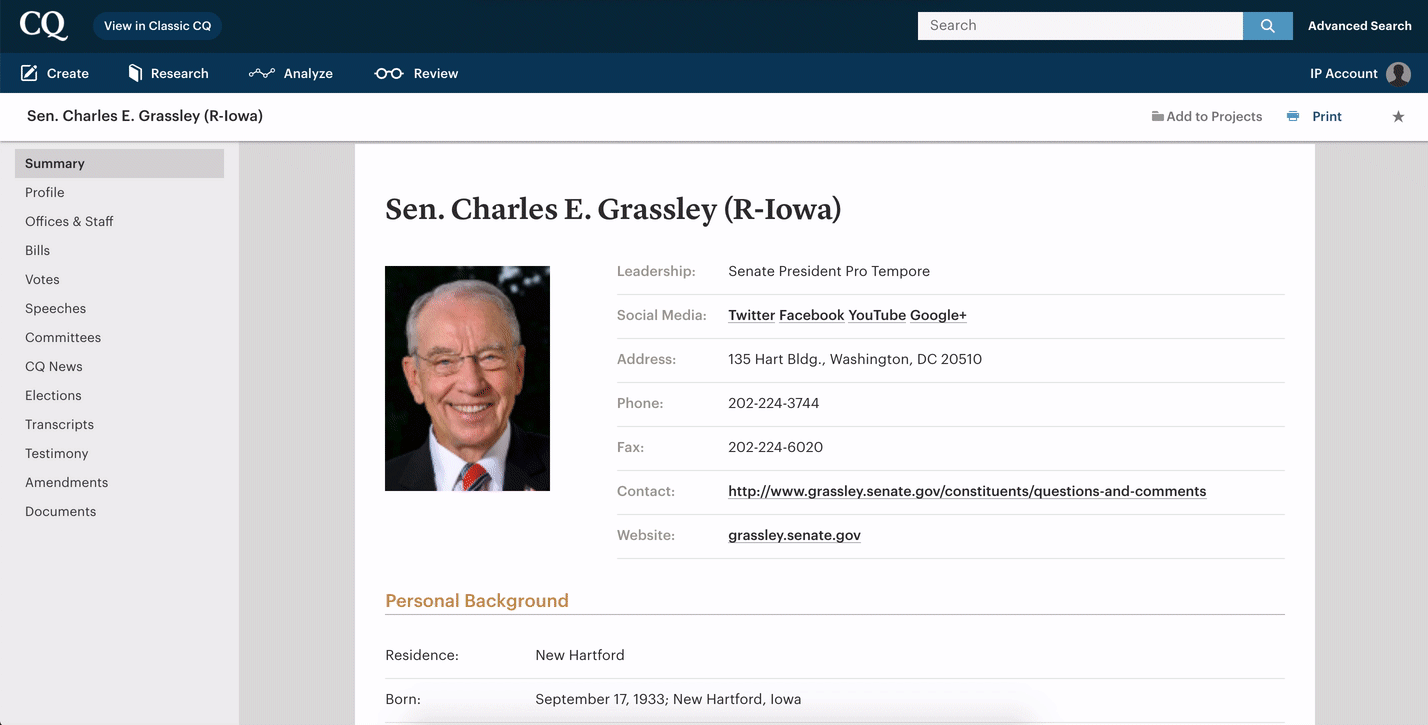 Any

grants

given to entities in their district

A breakdown of the

largest companies

in their district

Contracts

awarded in their district
For recent updates on the member, check out the 'CQ News' tab. There, you'll find all recent news articles mentioning that legislator.
Legislative Info
The 'Bills' tab houses all bills sponsored and cosponsored by the legislator,
while the 'Votes' tab shows both floor votes taken by that member and the markups they've participated in.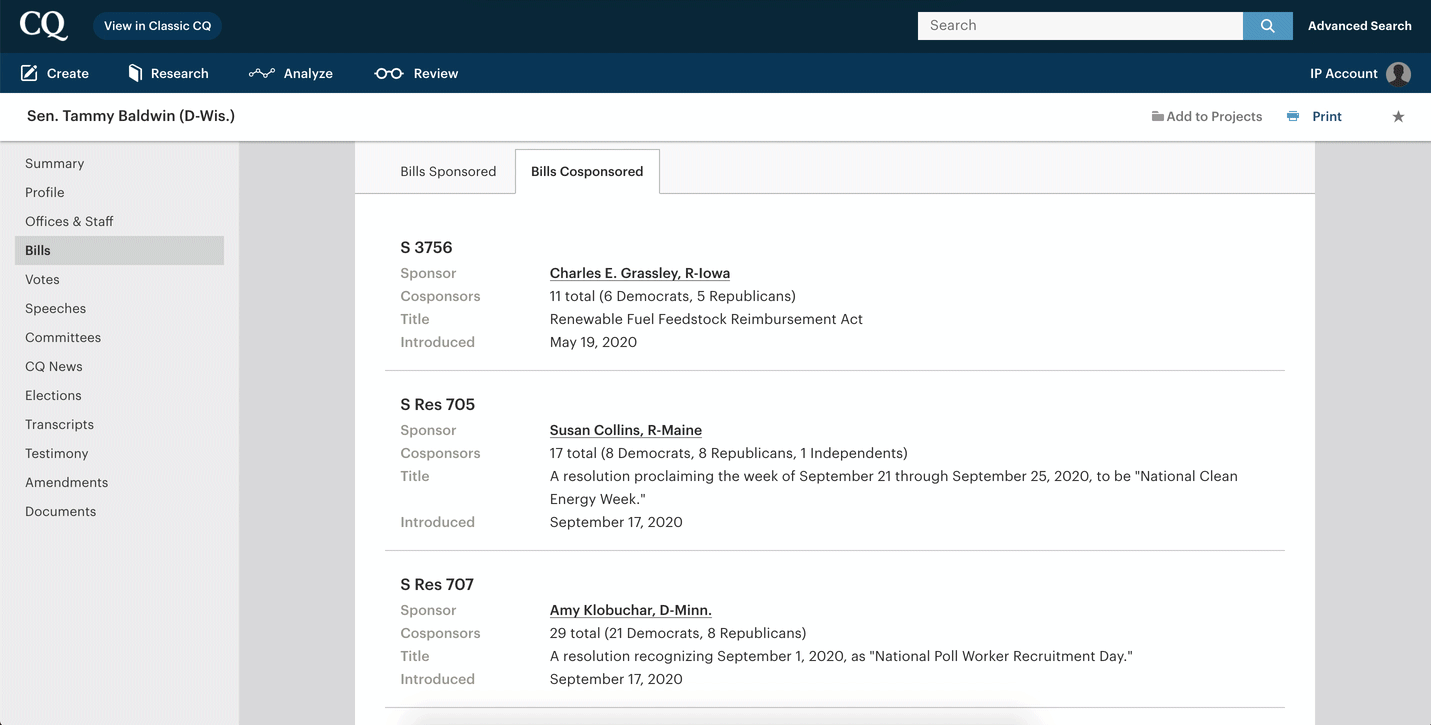 Finally, the 'Committees' tab holds everything you need to know about that member's assignments, hearings, schedules and additional information on markups.