Introduction
In order to deliver valuable CQ Transcript content even faster, we've recently added AI-Powered Transcripts to complement existing transcript services. AI generated transcripts are produced by artificial intelligence, meaning they can be ready in as little as 1 hour after the event! Get the first look at what transpired in the hearings and markups that matter to you.
Even more good news: for a limited time, AI Transcripts will be available to all accounts with access to CQ Transcripts!
What's New
AI-generated transcripts will now be available alongside our traditional Proofread transcripts. With this new addition, you'll be able to access full transcripts of all House and Senate Committees (that post publicly available live video coverage of their hearings) within 1 hour of the event's conclusion.
Note: AI Transcripts are NOT reviewed by our team of Transcript Editors and may contain errors.
The 2 key differences between Proofread Transcripts and AI-generated Transcripts are:
Speed with which they are released
Total number of committee hearings they cover
Unlike the new AI generated transcripts, CQ's Proofread Transcripts are generated through a manual process wherein dedicated members of the CQ editorial team review every word before it's published. This is why Proofread Transcripts typically take around 24 hours to be posted in full and only cover a limited number of committees, which you can review here (or see below).
Now, with the help of AI-enabled transcription technology, you'll have access to faster and more expansive coverage of hearings and markups, in addition to the proofread coverage of key committee events that fall within the dedicated coverage area of CQ's editorial team.
Finding AI Transcripts
Both AI-generated and Proofread Transcripts can be found by clicking 'Research' in the top toolbar, then 'Transcripts' in the dropdown menu.
To locate AI-generated Transcripts, head to the 'Browse Transcripts' tab on the left-hand side and look for the label "Complete AI generated transcript available" under the title of the transcript.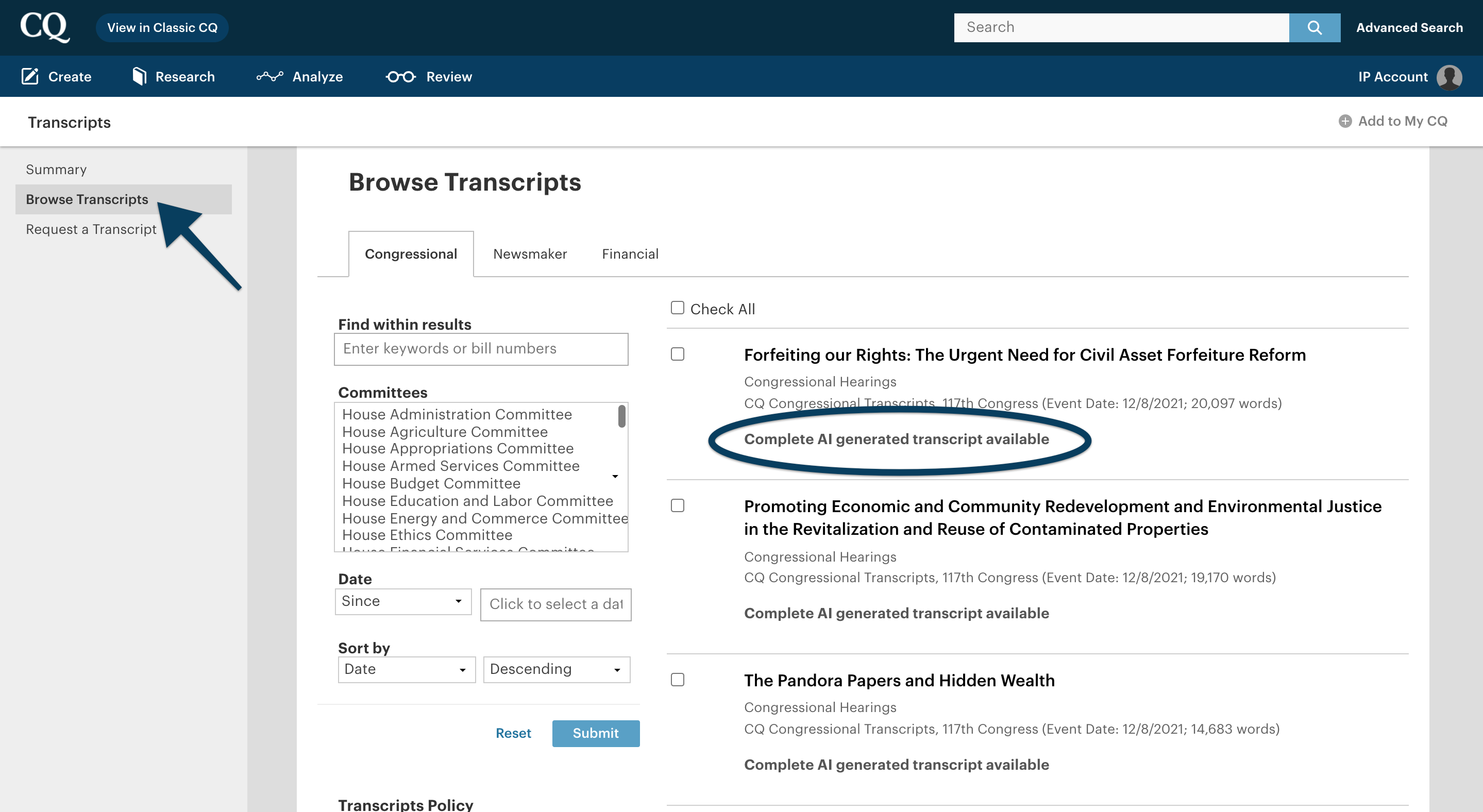 Once you click in, the AI-generated transcripts will be distinguishable by their yellow background and banner (Proofread Transcripts will remain the same and do not have a colored background).
Setting Email Alerts for AI Transcripts
For a Single Transcript
If you'd like to create an email alert for just one transcript, head to the tab labeled 'Summary' on the left-hand side of the Transcripts page (found by clicking 'Research' in the top toolbar, then 'Transcripts' in the dropdown menu).
Once there, look for the upcoming transcript you'd like to be alerted on, either under the 'Today' or 'Future' tabs, and find the hyperlink with the text "Alert me when transcript is available."
By clicking this link, you will receive both the AI-generated transcript within an hour of event completion, as well as the Proofread Transcript within 24 hours.
For All Transcripts from a Specific Committee
If you'd like to receive email alerts for all transcripts of hearings and markups held by a specific House, Senate or Joint committee, click 'Advanced Search' in the upper-righthand corner.
Create your custom alert using "Congressional Transcripts" as your source and "Committees" as your criteria, then select the committee you wish to track.
Once your alert is saved, you'll be notified of all AI-generated and Proofread Transcripts produced through the committees of your choice.
For more details on sources, criteria and setting an alert, see this in-depth help article.
AI Transcripts: FAQ
1. Are AI-generated Transcripts proofread?
No, they are not. The transcripts are computer-generated and therefore may contain errors. However, many of the AI-generated Transcripts will also be proofread by our Editorial team and published as our traditional Proofread Transcripts, which you will be alerted on if you've set an alert for specific AI transcripts. See here for which committees are guaranteed coverage with Proofread Transcripts.
2. So AI-generated Transcripts are produced for all hearings and markups. Are Proofread Transcripts produced for all hearings and markups as well?
No. See here for which committees are guaranteed coverage with Proofread Transcripts.