What are Member Fact Sheets?
Member Profiles contain lots of useful information on each member of Congress, and are most often used for either personal research or for the purposes of briefing or sharing with a team. Member Fact Sheets make it easy to print, export and share information on any policymaker.
How do I make one?
Simply navigate to Create → Report → Member Fact sheet.
Adding Members
When it comes to choosing members to add to your report, there are a few options.
Manual and Projects
To add members manually, all you need to do is type in the name of the member you're looking to create a report for, wait for the search bar to process the name, and then click the correct member name.
If you have already created a Project containing a member or members you'd like to include, navigate to the Project tab to select from.
Custom Queries
Custom queries are best for when you are looking for a member based off of criteria like chamber, committee, congress, party and/or other custom fields. For example, you could pull all members in the House Appropriations Committee, or all House Dems in the Oversight Committee.
Can I customize my report?
Absolutely! Once you've selected the members you'd like the reports to cover, take a look at the top bar of the page to see your options.
You can:
Update the title by clicking over "Member fact sheet;"
Change the members included in the report by clicking "Change data;"
Change the information included in the report by clicking "Change layout and fields."
Changing the Layout
That last one is quite useful. The default information included in the report is as follows: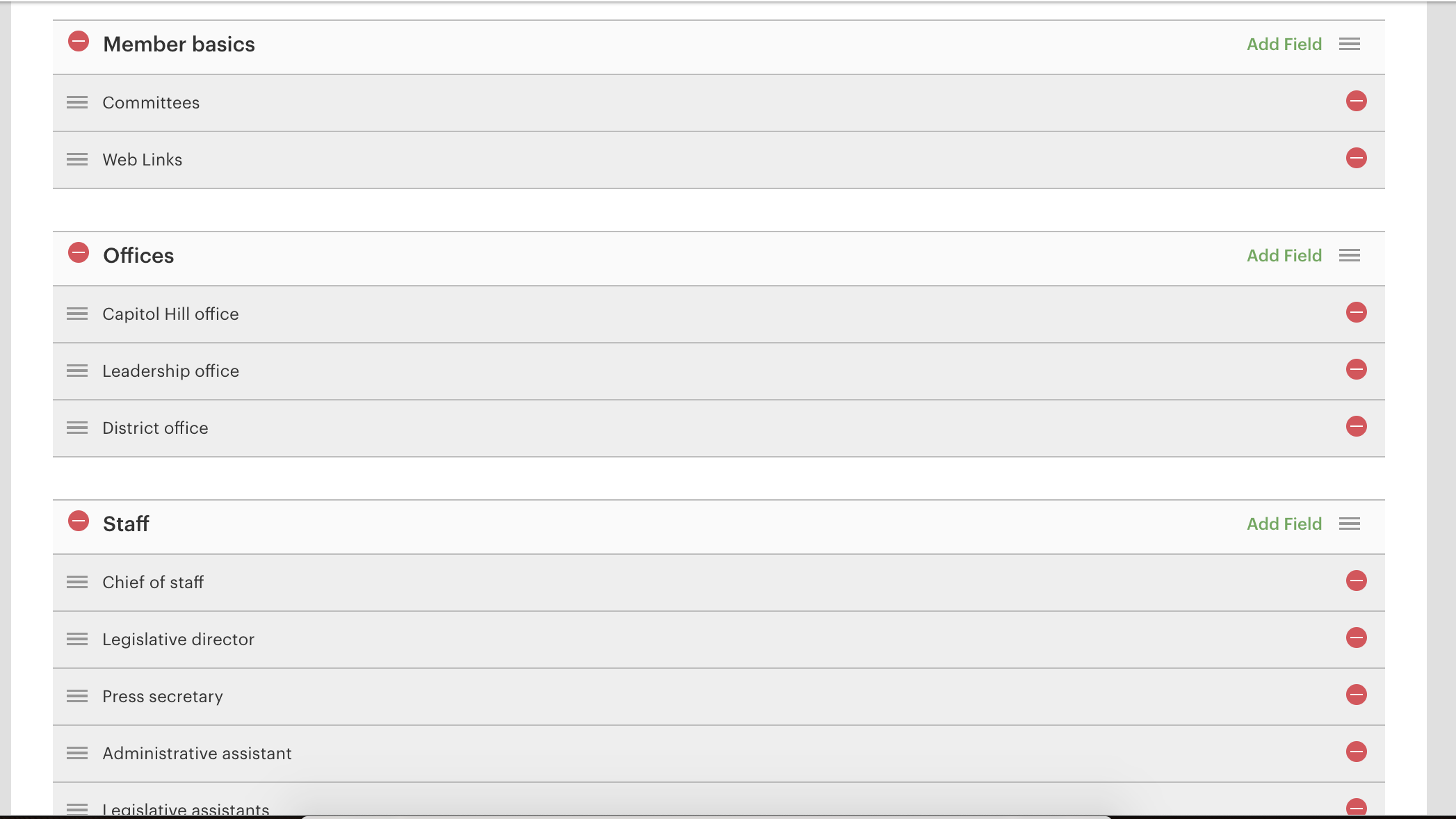 If you'd like to add or remove any of the above, simply click the red circle to delete or the "Add Field" button to add any of the below options, or custom fields.
You can also add new sections, as illustrated in the video below.
Once the report is as you'd like, hit 'Done' and then 'Save' in the upper righthand corner!