Video Overview
What is CQ Budget?
CQ Budget brings together all the latest news, bills, and analysis covering every aspect of the federal budget from across the CQ platform, as well as through a daily newsletter and podcast curated and crafted by veteran reports on the CQ Budget team. Think of it as your one-stop shop for all things appropriations.
Where is CQ Budget?
To view the CQ Budget page, head to your CQ Federal account and navigate to 'Analyze' → 'CQ Budget.'
What information can I access?
Within CQ Budget, you can:
Access draft appropriations bills before they've been assigned official bill numbers
See all news content as it relates to appropriations
Reference the Budget Tracker to see where each spending bill stands in the process
See all committee reports, markups, votes, unique policy documents and more
Budget Tracker
The Budget Tracker is the first thing you'll see when you click into CQ Budget. Here, you can find where every budget bill stands in the process as well as links to additional details on that bill through two different views.
The 'Detailed' view shows where each budget bill is both in terms of its location in either chamber or committee, as well as the last major action on the bill.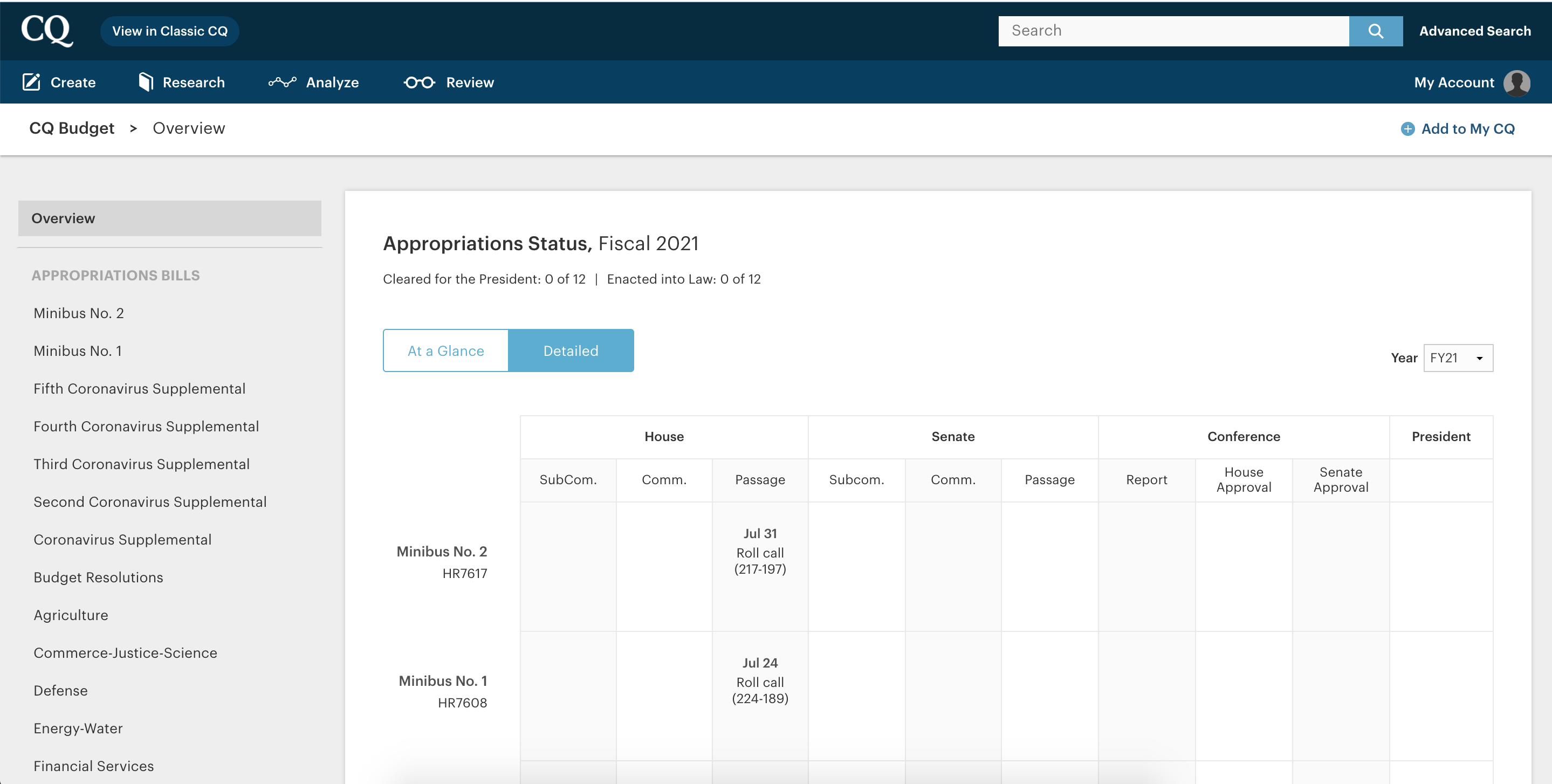 Bear in mind that you can click into any stage of the process for each budget bill to see more details on that action or step as well as access any associated bill pages listed on the left hand side
The "At a Glance" view offers a simplified, streamlined version of the detailed budget tracker. Here, you can see where each bill is from a higher level - like in the house, House, Senate, Conference or President's desk - through this color-coded key.
Draft Bills
Even if a bill has not been assigned a number, CQ's unique tagging system allows you to track bills even before they're introduced. See here for a more in-depth breakdown of draft bills, where to find them and how to track them.
Appropriations Bills Pages
Each appropriations bill page can be found in the lefthand toolbar. Once on the page, you'll see all news, articles, documents, hearings and votes as they relate to the specific bill you chose, as illustrated below.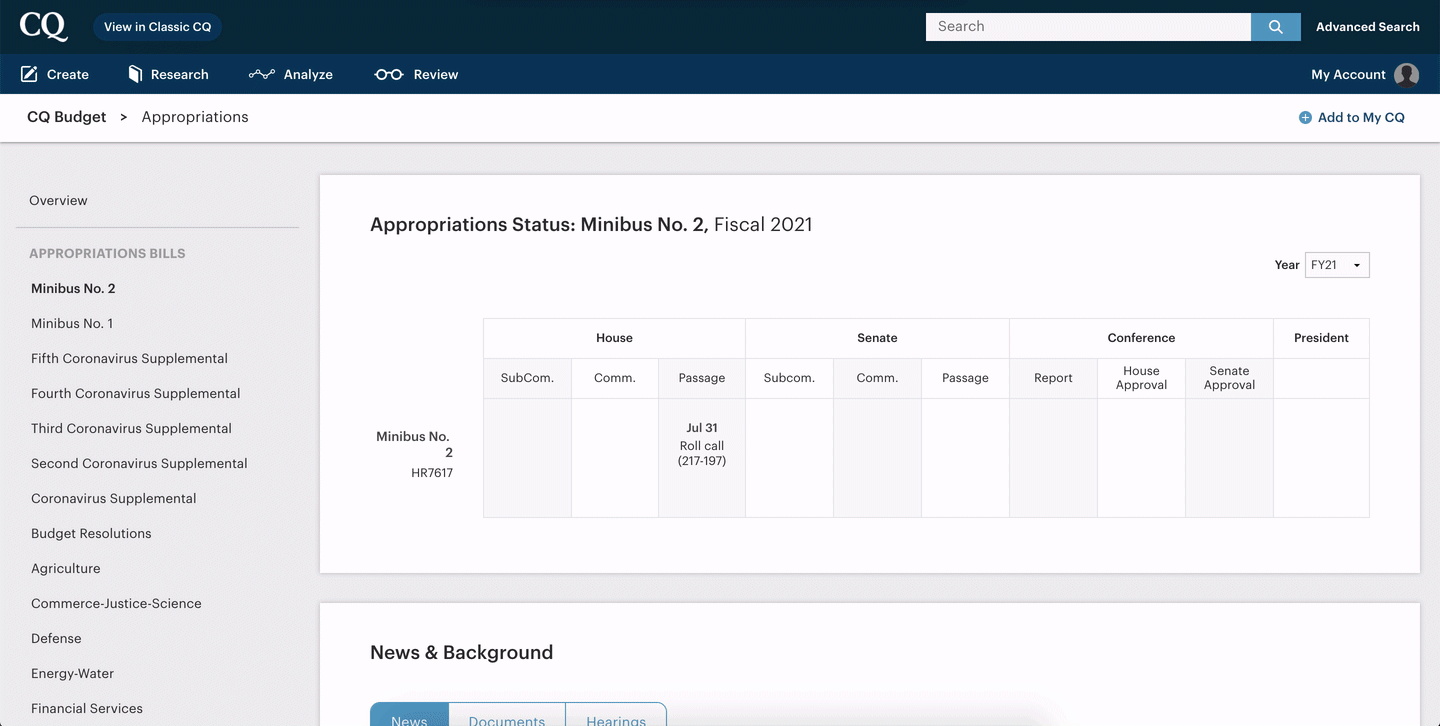 CQ Budget Newsletter
If you organization has access to CQ Budget, you most likely have access to the CQ Budget Newsletter. The newsletter delivers all the latest news, bills, and analysis covering every aspect of the federal budget from across the CQ platform to your inbox every day.
To find out how to sign up to receive the Budget newsletter, see this article.
What can I do with it?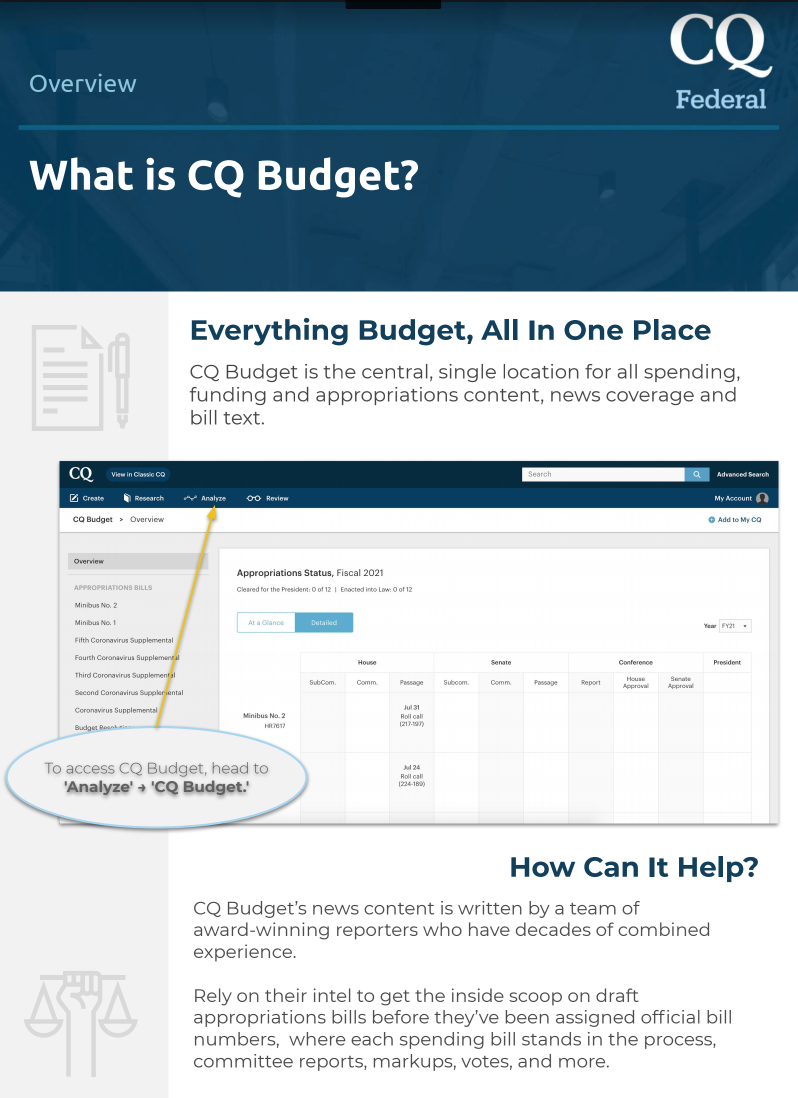 Click the link attached to the image above for the four-step CQ recommends to help you make the most of CQ Budget. As a summary, they include:
Reviewing all funding bills by leveraging the Budget Tracker;
Identifying the bills you care about and heading to their specific bill topic page to research further;
Setting an alert around the bills you've chosen to be emailed about all relevant updates as the bill moves;
Continue your research by leveraging CQ's Hot Docs, or unique policy documents;
Work with our Support team to further build out and customize your email alerts.