Table of Contents
Wondering how to make use of Advanced Search and specific keyword searching? Check out the commonly used examples below.
Example Searches
Bill Tracking
If you're looking to track a specific bill or set of bills, select "Bills" in the top bar of criteria. I would recommend unchecking Law Text and U.S. Code if you are looking to track legislation that has yet to be passed or rejected.
Selecting sub topics helps further specify what information you are looking for. Rather than just pulling a search of all bill data, you can pull bill data only insofar as it relates to the House Appropriations Committee, for example (see below).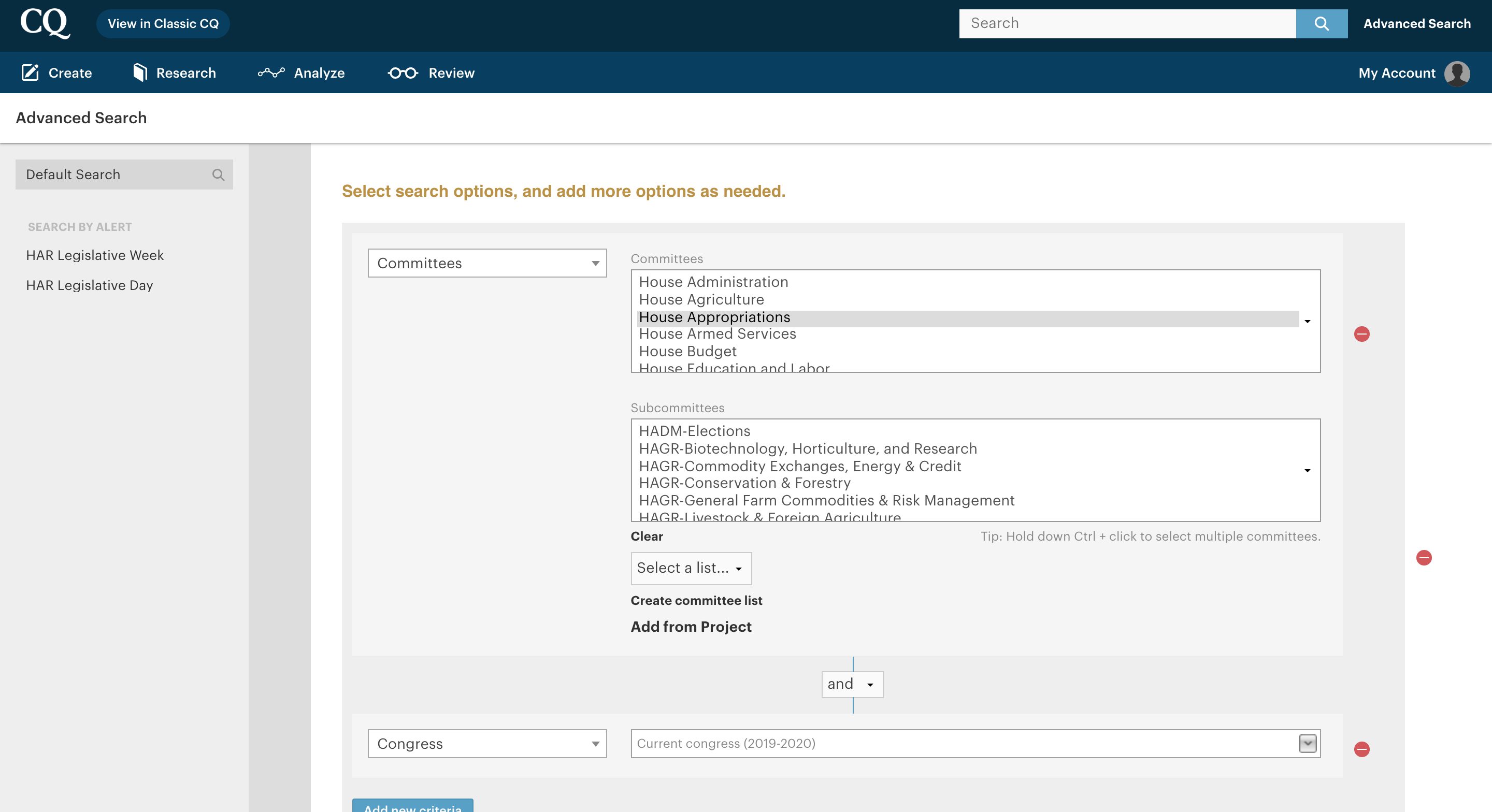 You can also simply choose 'Bills' as a sub topic and choose the specific bill you're looking to research.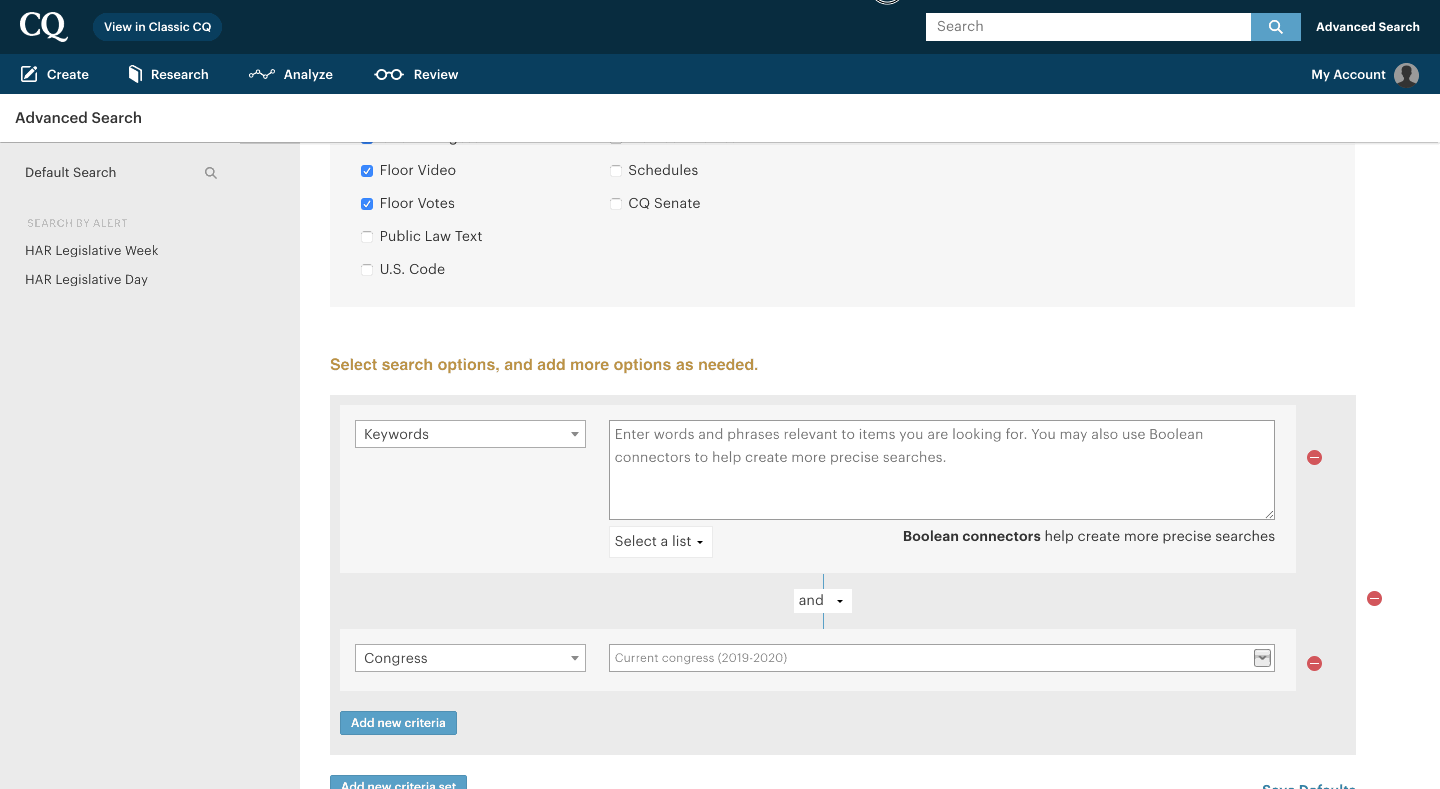 For a refresher on how to add sub topics, see this article.
Committee Schedules
Looking for the time and location of a specific committee hearing or meeting? Using Advanced Search, select 'Schedules' under the 'News & Schedules Sources', and use the Event Type filter. If you know the day or date on which it occurred, use the Event/Action Date filter in tandem.
Committee Hearing Transcripts
Looking for the transcript from a committee hearing? Use the Congressional Transcripts source.
Looking for the transcript of another event? Try the Newsmaker or Financial Transcripts sources and use the Transcript Type filter to narrow your search, then type in what you are looking for via the Keywords filter (see here for tips on keyword searching).
Markup Coverage
For in-depth coverage of markups, including what was said, who voted and what the vote outcome was, select 'Committee Coverage' as your source. From there, you can search for members; specific bills being considered; specific votes taken, or even simple keywords.
Committee Coverage is CQ's coverage of markups, and is therefore non-partisan and often releases prior to the Committee's reports themselves. However, feel free to include both in your search to compare and contrast, as seen below.
Floor Video Clips
Want to see who may be mentioning your issues on the floor, and in what context? Find video content by using the 'Floor Video' source and typing in keywords using the Keywords filter.
Browsing News Articles
To find information on a specific member in any of the CQ News content, select 'CQ News' under 'News & Schedules' and search using keywords and filters.
FAQ
1. Why can't I choose subtopics beyond Congress and Keywords?
This is most likely because you have not selected sources. Make sure to select sources in order to view additional options when selecting sub topics.
2. Can I add additional sub-topic filters like committees, bills, date or votes on top of my keywords criteria?
Absolutely! See here to learn more about nesting/layering subtopics in Advanced Search.
3. My search isn't pulling any results, but I know that's impossible. How do I fix that?
Typically, this is because you used the 'backspace arrow' to go back to the search page to edit your search. Instead, reset your search, and always make sure to click the 'Edit Search' button in the upper righthand corner of the results page to edit any aspect of your seach. If you're still having issues, email help@cq.com.