Video Overview
CQ reporters have brought readers their thoughtful and award-winning insight into the inner-workings of Congress for decades - since the 1940s, to be exact. See the video below for an overview of what content they produce.
Downloadable PDF Overview (News)
Click here to download, or click the image below.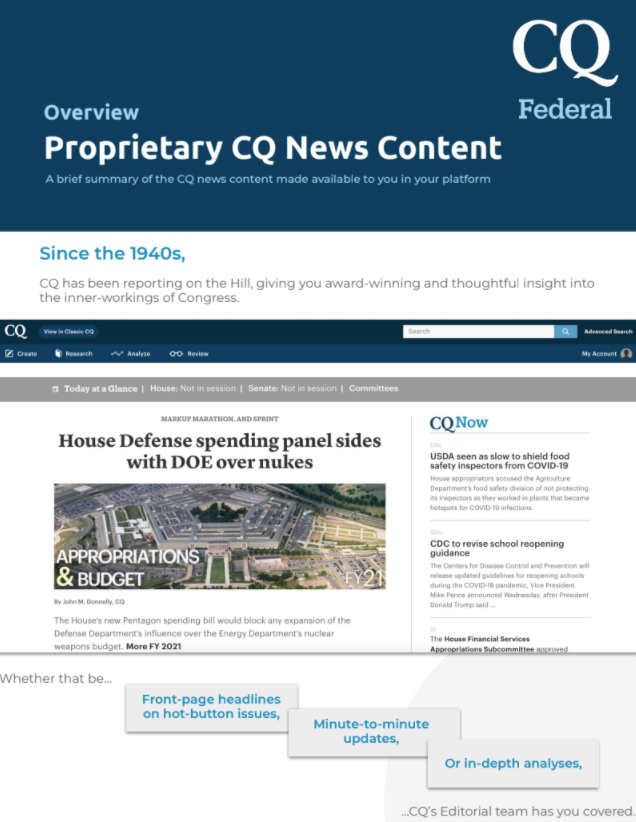 What news content do I have access to?
Daily Legislative News and Insights: Comprehensive, nonpartisan congressional news and insights from CQ's veteran press corps. CQ News offers unparalleled coverage and analysis from the floor, committee markups, hearings and more, with breaking news posted throughout the day.
CQ Member Profiles: A searchable reference database for every member of Congress, containing state and district information, comprehensive member biographies, voting records and electoral histories, committee assignments, legislative priorities, positions on key issues and more.
CQ Daily Morning & Afternoon Update: A daily morning and afternoon newsletter update with a

snapshot of the latest activity on and around the Hill, alerting you to key issues to follow throughout the day.

CQ Schedules: Everything you need to know what's happening (and where) in Washington. CQ posts updates on events from Congress, from daily and weekly floor schedules to committee events, as well as White House events and more.
CQ Magazine Online: Articles providing a deep look inside the policymaking process, delivering a clear perspective on major policy issues, the political state of play, and the potential impact to your interests.
Where is this content?
News Content
CQ's news content can most easily be found on the homepage of the platform. The page will update dynamically with all new content every time you refresh.
Schedules Content
Find schedules for the House and Senate by navigating to 'Research' → 'Schedules.'
Downloadable PDF Overview (Schedules)
Click here to download, or click the image below.
CQ Magazine
The central location for only articles published in CQ Magazine can be found by navigating to 'Analyze' → 'News & Analysis' → 'CQ Magazine.'
Member Profiles
See this article for an in-depth review of Member Profiles; where to find them, and how to use them.